Contacting Me
I'm easily reached via my Contact Me form, email (Tabitha.Rose.Bennett@gmail.com or TabithaRoseBennett@protonmail.com) or text (1-206-419-6728). I do my best to respond quickly to emails and texts; please note that I do not accept voice calls without prior arrangements.
When I'm with a client, my phone's ringer will be off and set to "Do Not Disturb." I value our connection and your time, so I will not be on my phone during a session.
Location and Hours
My primary session space is in a private dungeon in the SoDo area, equipped with everything from a spanking bench and sex sling to a 450-lb hoist. This space is open 24/7, but is in high demand so please schedule accordingly. Note that the SoDo dungeon also incurs an additional rental fee of $50/hour.
When Scheduling an Appointment
Please avoid any explicit language via text, email, or private message. I am a companion and a confidante, a queen and a coquette. I do not sell sex. Any insinuation or outright suggestion that I do will result in my blocking you.
I prefer at least 24 hours advance notice before booking an appointment, although I can often accommodate requests with less lead time. It never hurts to ask, particularly if we've met before, and the rewards are well worth it.
Have some idea of when you'd like to see me. Send me a few options for when you're available to meet, as well as the length and type of your desired appointment. It's much easier for me to work with a few requested times and see if your availability matches mine than for us to email back and forth.
Do not attempt to negotiate my posted rates. The value I place on my time and energy is not open to discussion.
Please be prepared to go through a screening process, as explained below.
Appointment Screening 
I am delighted to meet new people, and I do screen new clients. For more information on why I screen, how, and what I do with that information, please click here.
Screening means providing me with your personal phone number, email, and real name, and/or verifiable social media sites (such as your LinkedIn profile). I will not retain that information in any format once I've run the screening, and I will hold any information you provide as securely as I maintain my own privacy.
A second option is to meet for coffee, a meal, or drinks in public to establish rapport and trust. The rate for these initial meetings is $100/hour, plus any food, drinks, travel expenses, or other incidentals.
A Note on References
I typically do not accept references as a form of screening unless I personally know the other provider. That said, if you've seen someone I know within the last six months or so, please give me the following information:
The companion's name, a link to their website or a recent ad, and how they might remember you
Your name and board handle.
When Arriving for Your Appointment
Please do your best to be on time. I understand that life (and Seattle traffic!) can be unpredictable, but if you're running late or need to cancel, please notify me as soon as possible. My phone will always be nearby and charged before a scheduled appointment so that we can reach each other.
Please respect my neighbors by parking where indicated and keeping your music at a low volume when arriving and departing.
Please avoid heavy colognes or other scents. I am unfortunately very sensitive to tobacco products, so if you've smoked recently, I will invite you to brush your teeth or use mouthwash, and possibly shower when you arrive.
After I've welcomed you to my space, please take a moment to remove your coat and shoes and get comfortable. Turn off your phone, and know that I will do the same. I ask that you leave your phone in the outer room, in a coat or pants pocket, or at the very least face-down to avoid any accidental image captures.
Once we've had a moment to say hi, please leave your donation on any table and then excuse yourself to wash up. I prefer not to discuss the donations and would much rather not spoil the mood by having to ask for it.
During Your Appointment
If I express unwillingness to participate in a particular activity, please respect that boundary. I will give only one warning after setting a boundary; I will end the session if that warning is not heeded.
I do not give refunds for any reason once a session has begun. The only possible exception is if we've agreed on activities not included in my usual rate; in that case, please keep the additional amount in a second envelope (or separate in some way). If I'm unable to accommodate your special request for any reason, the second envelope will of course go home with you.
After Your Appointment
You're welcome to keep my number to book future appointments, or to assist in giving references to other providers.
A note on reviews: Thanks to FOSTA/SESTA, reviews are now much more hazardous and most websites have shut down their review sections, if not the entire site. If you feel it necessary to write a review, please discuss it with me in person prior to posting.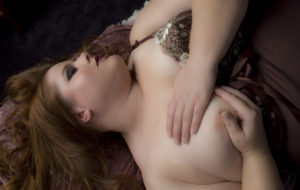 Late Arrival/Cancellation/No Show Policy 
Punctuality is important. If you will be more than 10 minutes late, please contact me immediately. Depending on circumstances, I may be able shift your appointment back, or see you for a shortened visit. Please communicate with me as soon as you know you'll be late so we can see what we can do. If I cannot accommodate you due to your lateness, I will consider this a short-notice cancellation as described below.
If you cancel on short notice (less than 24 hours, depending on when we scheduled the appointment), are running so late that we can't make your original appointment work, or fail to show, I reserve the right to charge any amount up to the full donation, at my discretion. If you reschedule within a reasonable amount of time, I'll apply half of the fee to your next visit. If you are unwilling or unable to make amends, I will regretfully post alerts to the appropriate places.
If I have to cancel on short notice, or am running too late for your schedule to accommodate, I will do my best to let you know as soon as I possibly can, reschedule as soon as I'm able, and I will make it up to you.